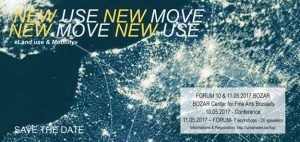 Le thème est « New Use <>New Move. Land Use and Mobility ».
Ce thème sera examiné sous l'angle prospectif, à l'horizon 2030.
Le 10 mai à 19h, une conférence sera présentée par Kai-Uwe Bergmann sur le thème complémentaire « Big and Small ».
Le jeudi 11 mai de 9 à 18h30, 7 ateliers se tiendront, avec une vingtaine d'intervenants.
· Elisabeth Pélegrin-Genel (architecte-urbaniste, psychologue du travail), Isabelle Sonneville (DRH AXA Belgium), Benjamin Cadranel (Citydev)
· Gaetan Hannecart (MATEXI), Claire Flurin (Pure House New York), Jean Haëntjens (conseiller en stratégies urbaines-Nantes)
· Pieter Ballon (auteur de « Smart Cities »), Jean-François Soupizet (consultant en développement international & développement numérique-Paris), Olivier Stuckens (ATOS)
· Frédéric Mathis (VEDECOM), Georges Amar (prospectiviste-Paris), Christian Lambert (Drive Now)
· Ross Douglas (promoteur des Salons « Autonomy »-London), Xavier Tackoen (Espace-Mobilité), Michel Hubert (Brussels Studies),
· Thibaud Hilmarcher (Tractebel Engie), Henriette Van Eijl (DG MOVE Commission Européenne), Mirjam Tas (Logistique urbaine UPS),
· Frédéric Héran (Université de Lille),Guillaume Vandervaeren (JNC – FBU), Simon Collet (TEC – Namur/Luxembourg).
Plus d'infos :
Dates : 10 et 11 mai 2017
Lieu : BOZAR
Inscriptions : http://www.bozar.be
Ce Forum est organisé par l'association FOR URBAN PASSION.
> http://urbanistes.be/fup/forum-2017/theme-du-forum